flexigo's
suite of integrated solutions

cover all of your
corporate mobility needs.
flexiCommute
Initial commute analysis
flexiCommute is a planning tool that produces optimal commute alternatives for each employee, comparing current commutes with a best alternative based on cost, duration and emissions.
Identify who can walk, bike or take public transit as a feasible commute alternative.
For the remaining employees, flexigo's
optimization engine creates routes for vanpools and shuttles, whichever best fits the demands of your organization.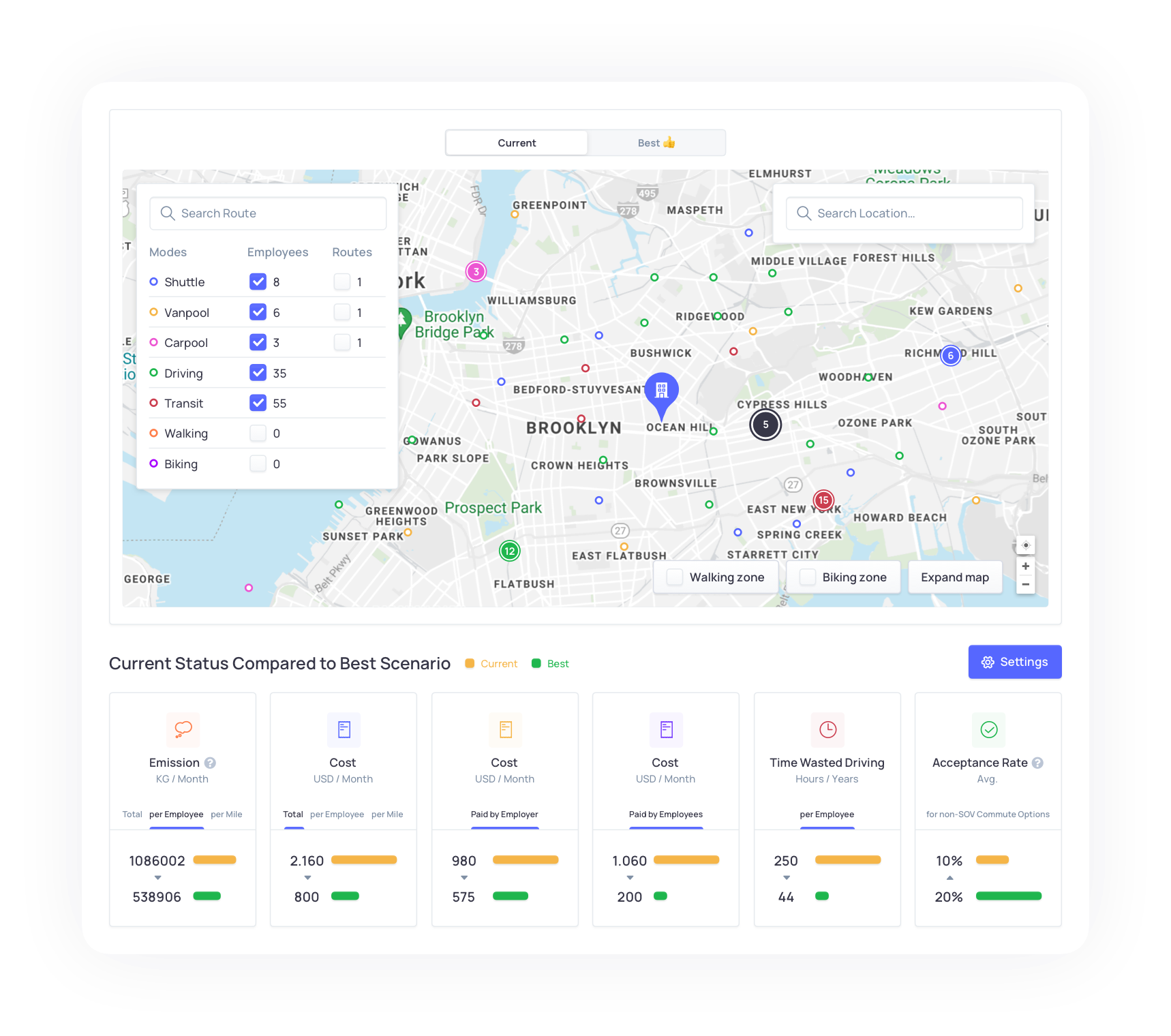 flexigo's suite of shared commute solutions improve employee, business and community outcomes.
Control costs, boost employee engagement, enhance revenue, reduce GHG emissions, and improve safety outcomes.
flexiShuttle
Fixed or Demand Responsive
Whether a fixed routes or dynamically routed based on demand, flexiShuttle can manage different use cases like standard single shifts, varying shifts, overtime, hybrid working models, one-off events and other scenarios.
The flexiShuttle optimization algorithm, based on your priorities, finds a balance between cost, duration and emissions when creating shuttle routes.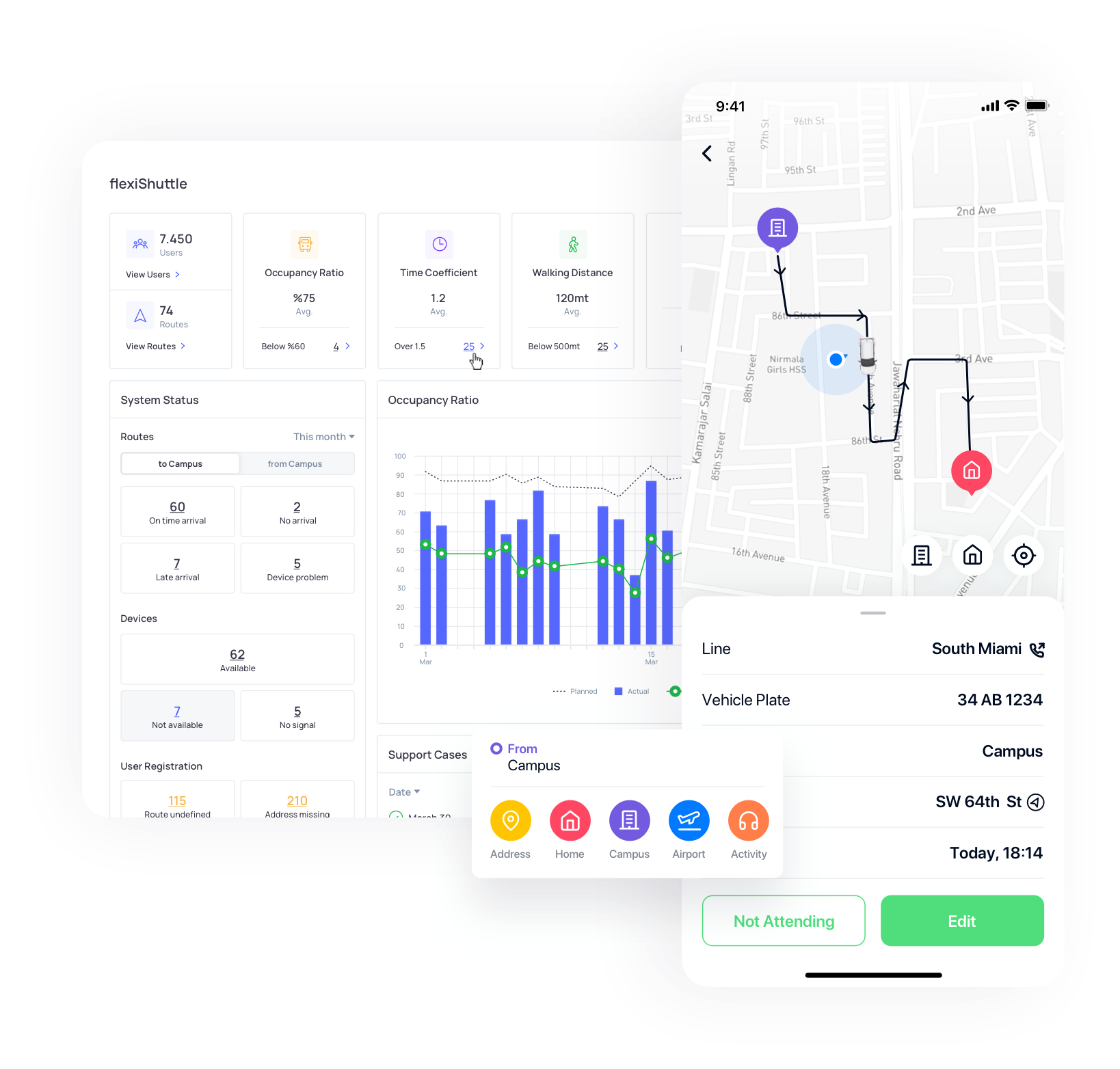 flexiVanpool
Demand-based grouping, routing and digitally managed vanpools
A smart vanpool management system that simplifies the process for both users and administrators by optimizing routes, monitoring drivers, riders and vehicles, and reporting information for compliance. flexiVanpool increases ridership by moving vanpool management into the digital age.
flexiCarpool
Smart corporate carpool solution
A digital carpool application that makes matching, tracking and reporting as easy as swiping right. flexiCarpool employs a unique rider-driver dual matching process and real time ride tracking, and provides comprehensive reporting, analysis, and incentive management functionality.
flexigo's arsenal of supplementary mobility tools increase adoption of shared commute alternatives by increasing employees' sense of mobility freedom.
flexiCar
Corporate car sharing application
Car sharing application to manage your company pool cars digitally. Employees reserve and unlock the doors through the app and drive to their meetings on personal errands.
flexiRide
Closed loop ride-hailing service
Corporate on-demand ridesharing application for one-way trips or roundtrips with a long pause in between. Optionally, pool
riders going to the same location or travelling in the same direction.
flexiMileage
Reporting of private car, taxi or ride hailing usage for work
As some employees might still drive to work, you can improve logging and reimbursement with flexiMileage. Just start and stop a trip through the app and select the purpose of the trip to complete the report.
flexiAl
Mobility strategy setting based on real usage data
With all corporate mobility data collected in one place, flexiAI can provide detailed analysis on corporate mobility usage.
Our corporate and campus mobility management platform
will help you reduce commute costs and achieve your sustainability goals quickly and easily.

Thanks to the flexigo application, I can instantly track where my service is on my phone, thus I can obtain information without the need for a shuttle driver or other staff.
Traction To Date
32%
Average savings on mobility
500K
Offsetting would require 500K trees/year
Deployment Models
You can deploy flexigo with a Software as a Service model to manage, optimize and streamline your existing corporate mobility initiatives. Alternatively, flexigo can provide a fully serviced model with its partners.
Software as a Service
If you already have a transportation program in place with your own fleet or work with a transportation provider, use flexgio to streamline your operations, improve user experience while optimizing for cost and emissions.
Shared
If your team size does not allow you to deploy efficient routes, flexigo's multi-tenant structure can enable you to collaborate with other employers nearby and operate a shared service. Through increased ridership, trips get shorter and costs become lower.
Fully Serviced
If you prefer to work with a single supplier, flexigo can provide turnkey commute and supplementary transportation solutions including vehicles and drivers through its transportation partners.
Dedicated
If you have enough in-house demand to run efficient routes, shuttles and vans are used only by your team.
Benefits
Employer
Broaden geographical reach to talent
Differentiate your offer with a commuter benefit package
Increase talent acquisition and retention
Decrease turnover by up to 20%
Reduce the cost of and the dependency on parking
City and Environment
Each shuttle eliminates up to 20 cars from traffic:

Reduced traffic
Reduced emission
Reduced parking space

Equitable and sustainable access to work creates happier citizens and employees
Rider
Eliminates the stress and anxiety attributed to driving to work
Broadens access to available jobs
Create time to work remotely in wifi-enabled shuttles or to relax
More than 60% cost effective compared to driving
Employer
Rider
City and Environment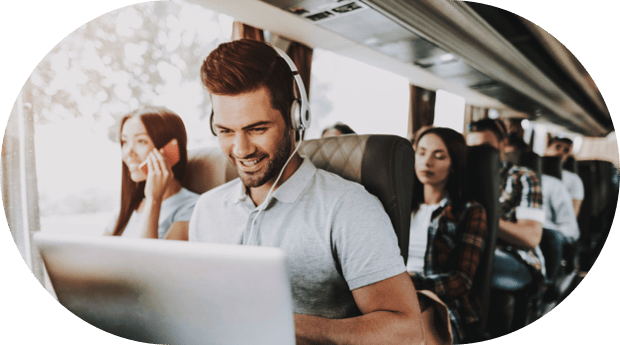 Whether you're seeking one specific service or a more integrated mobility solution, let us customize a package to meet your company's unique needs.
Our team is available around the clock to offer support and respond to your inquiries. We look forward to hearing from you!