flexiCarpool
Your smart corporate carpool solution.
We help your employees find and create ideal carpool connections with our mutual-matching technology, which ensures that all members of a carpool are interested in riding with one another before any matches are recommended. This eliminates the anxiety of being matched with a stranger.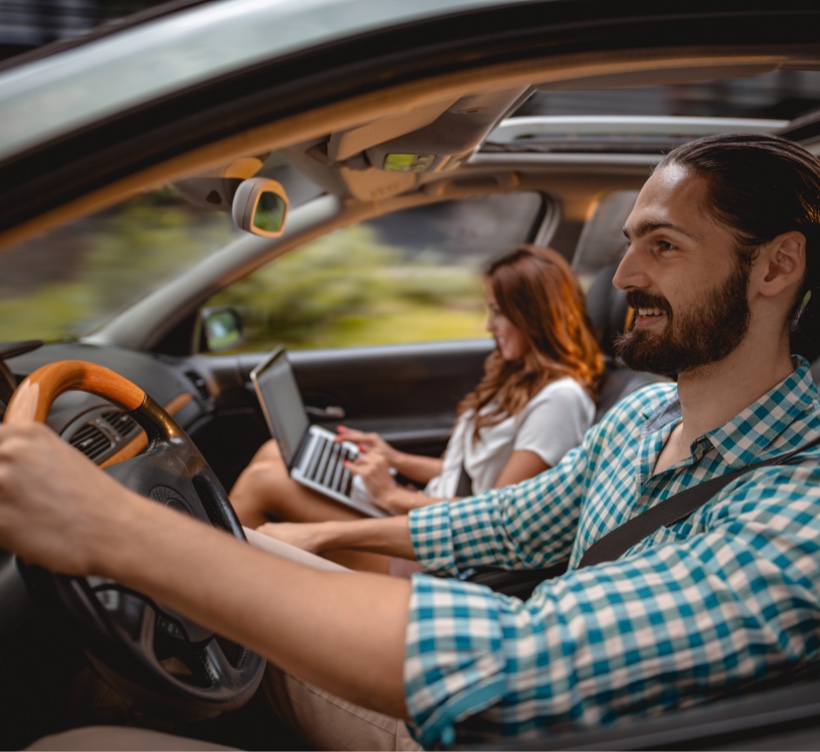 Sharing a carpool with just one other coworker can reduce the cost of your commute by at least 50% and comes with the additional benefits of CO2 emissions reductions and reduced stress compared to driving alone.
flexiCarpool is designed to be flexible for those with hybrid or variable work schedules, and carpools are eligible for HOV lane access and applicable employer commute incentives.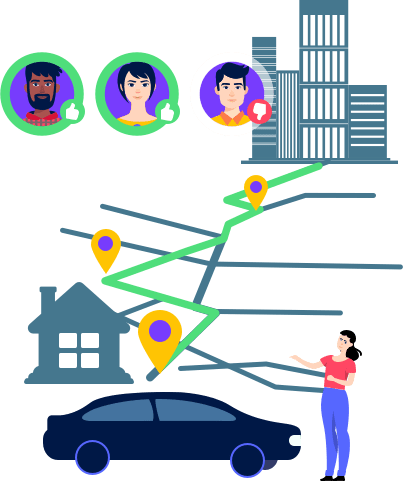 How flexiCarpool Works
Registration
During the initial flexigo registration and commute analysis survey process users that indicate a willingness to carpool are asked whether they would participate as a rider and/or driver.
In addition, they are asked to input their usual workplace arrival and departure. These can be changed at any time in the commute preference settings within the app.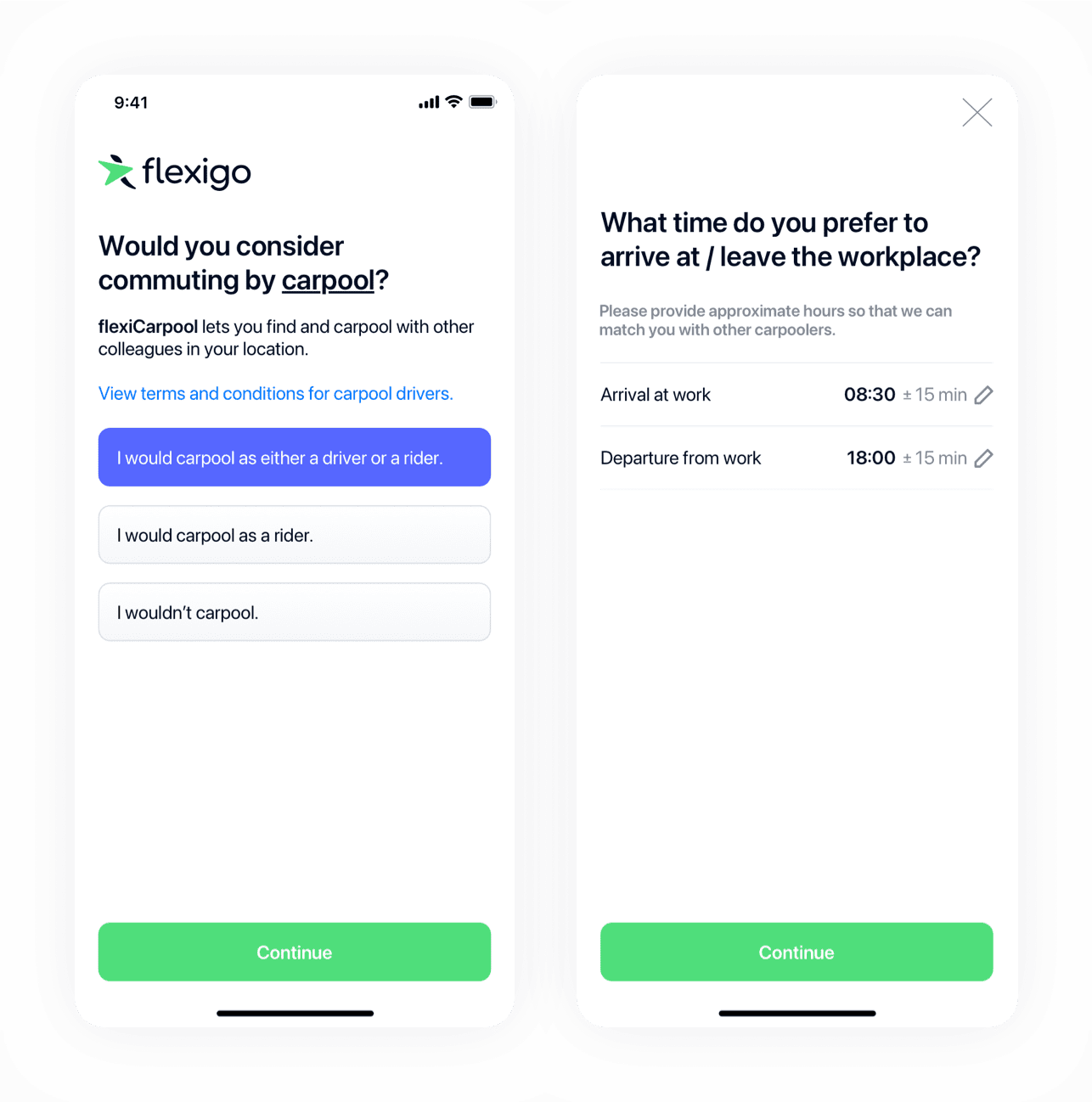 Matching
Potential carpool partner matches are suggested based on coworkers' home locations and schedules. These are displayed to each user both as a list and on a map. Riders and drivers identify with which coworkers they would be willing to carpool or not by simply swiping candidates to the left or right. When both sides consent to ride together, they are sent notifications on the match.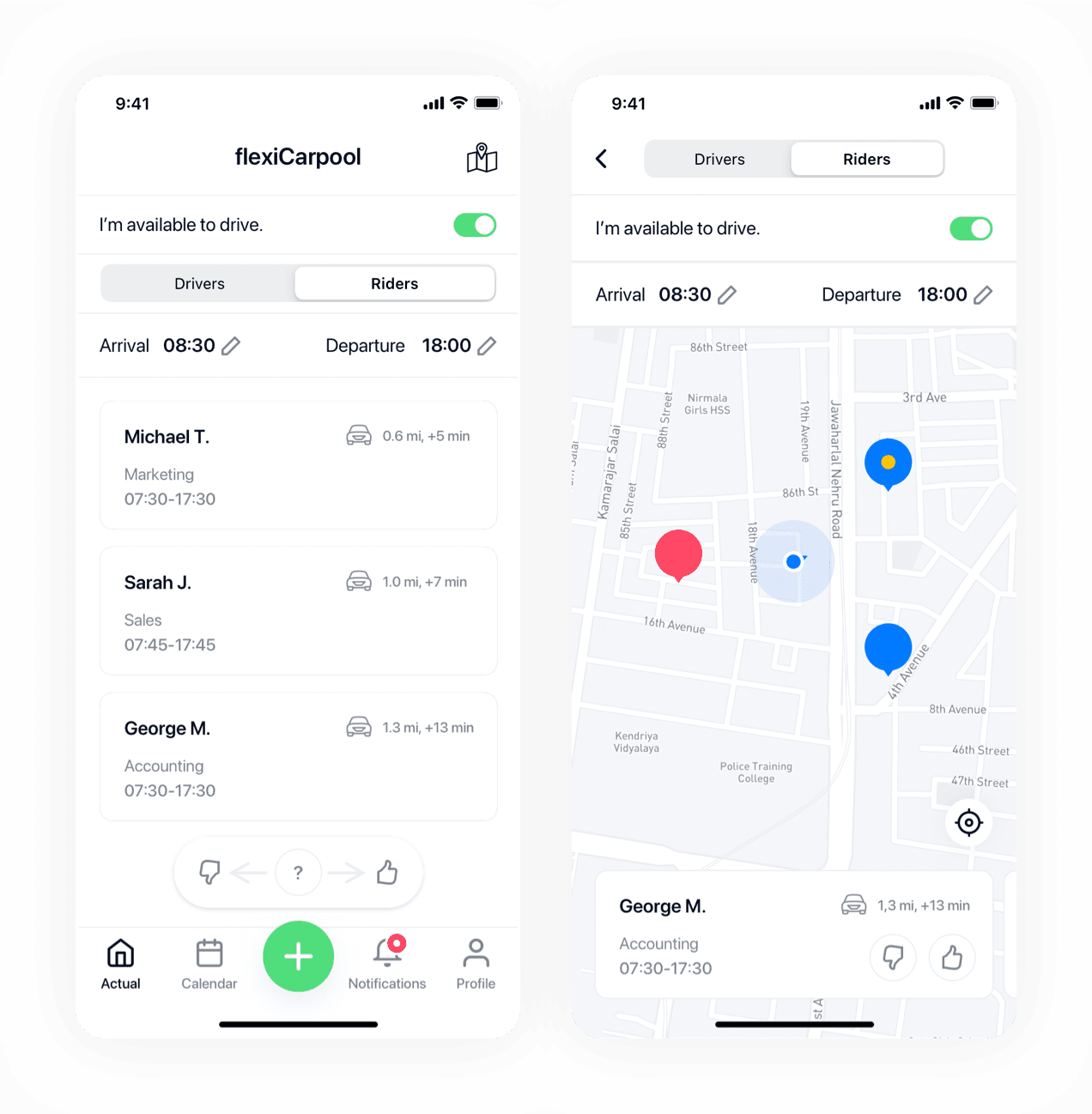 Activation
Matched drivers and riders can contact each other by calling or messaging via the flexigo app.

Upon final confirmation, drivers activate the carpool match within the app.

Drivers are also provided with the location of their riders with the option to initiate navigation.
QR Check-In
For ride confirmation and incentive reporting, riders scan the QR code on the driver's flexigo app. They are reminded to scan the QR code at the beginning of each trip. QR code check-ins are logged with the location and time of the scan to ensure accurate ridership reporting. TDMs have access to detailed ridership reports and ridership trend analysis, as well as incentive management.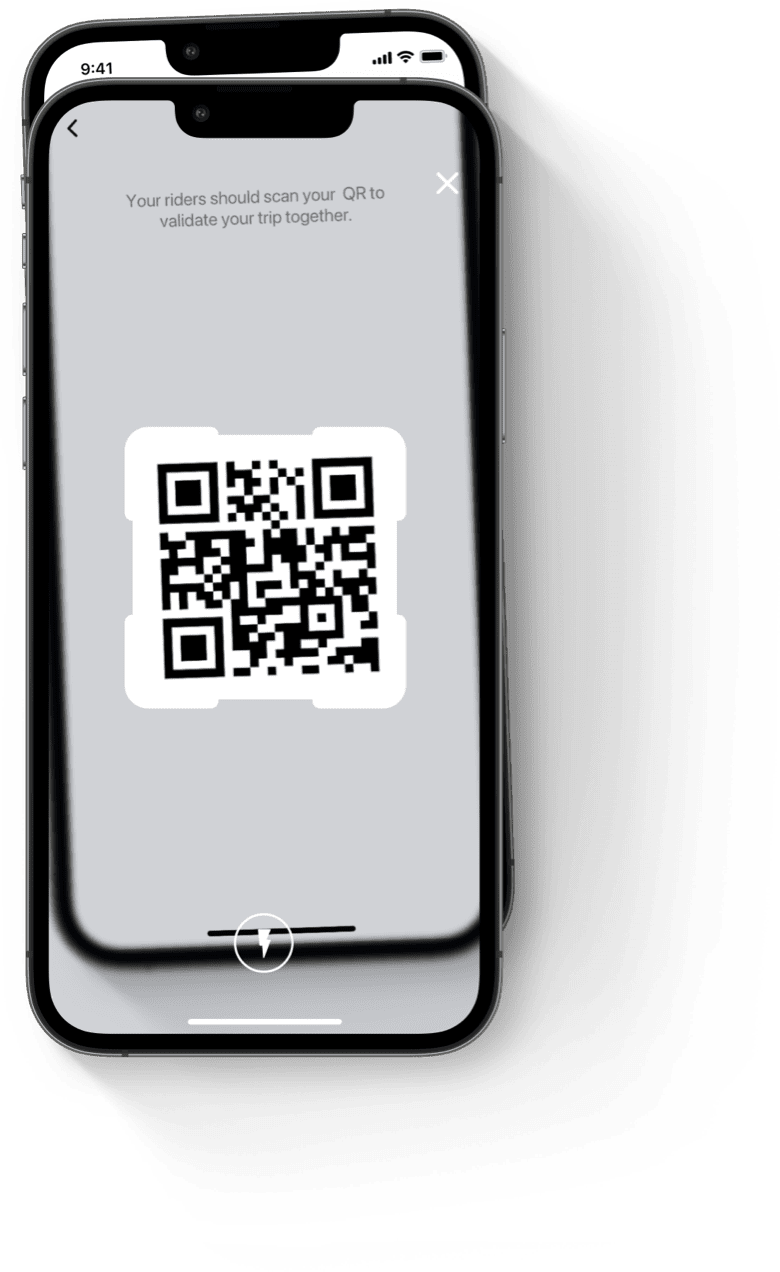 Management and Reporting
Below are the key parameters that are tracked and reported to TDMs:
User's willingness to ride with other coworkers
User carpool participation information
Rider matching information
Ridership confirmation report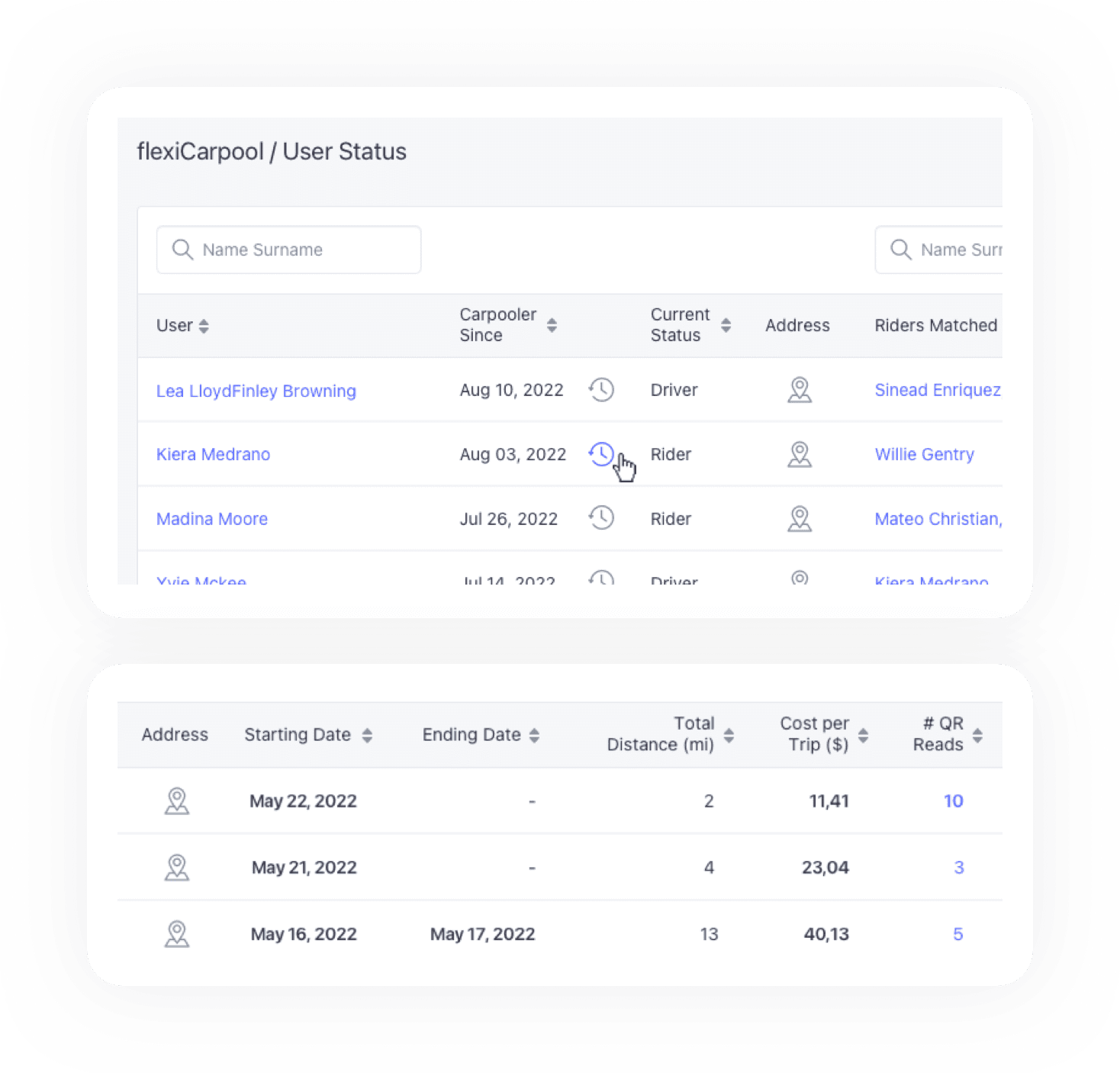 Benefits of flexiCarpool
flexiCarpool offers a range of benefits for both employers and riders. Easy enrollment, mutually agreed upon rider and driver matching, simple access and check-in tools, convenient reporting, and reduced commuting costs make this smart carpool solution ideal for everyone.
Organizations
Increase user adoption through online registration and collecting willingness to carpool.
Improve rider-driver matching where matching happens only when both driver and rider candidate approve willingness to carpool with each other.
Easy-to-use QR check-in process improves ridership tracking and confirmation.
Improve services and reduce reporting burden with automated digital reporting tools.
Build better incentive plans around ridership confirmation statistics.
Lower administrative overhead related to carpool management.
Riders and Drivers
Easily identify carpool partners within your home vicinity.
As a driver, see the time added to your commute journey to pick up riders before accepting them.
Control which colleagues you ride with so you're always comfortable.
Easily navigate to your riders' home locations.
Check in for each ride, easily through the app to ensure incentives and rewards are delivered to you quickly and accurately.
Access other modes of commute through the app if your carpool driver has a last-minute emergency.